Patients experiencing problems with the alignment of their teeth, jaws or bite will want to find out more about how orthodontics Essex can help relieve their symptoms.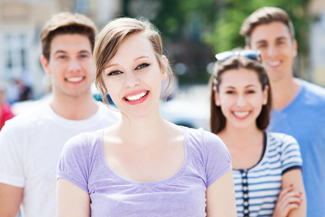 At Crofts Dental Practice, we offer patients a myriad of viable modern solutions in orthodontics Essex. More and more patients – adults, in particular – are interested in teeth straightening appliances that can fit in with their lifestyles. Modern orthodontics Essex caters to this demand by introducing distinctive appliances that feature forward-thinking designs.
Misaligned teeth not only create unsightly smiles but give rise to a number of dental health problems. Linked to teeth misalignment issues are poor oral hygiene, digestive issues (when food cannot be chewed properly), dental pain, gum disease and tooth loss. And this does not even take into account the devastating effects of what the loss of confidence in smiling can do to a patient's mental, social and professional wellbeing.
There is strong evidence that links orthodontic treatment to the overall quality of life. Orthodontic treatment can help patients bite and chew better, improving their ability to eat a wider variety of foods. It can also allow patients to smile better and gain confidence in speaking to others, forming friendships or advancing in their careers.
Types of orthodontic devices available
At our practice, we make available a range of workable teeth-straightening devices so that our patients can choose one that suits them according to their specific needs and preferences.
For us to provide our patients with a superior level of patient care, we must evaluate their goals and lifestyles, allowing us to determine the right treatment plan that will give them the results they are after. During our free consultation appointment, our experienced dental practitioner will provide the patient with the necessary information on all the orthodontic treatment plans suitable so that they can make an informed choice.
We offer the Inman Aligner – a teeth-straightening system that manipulates teeth into position, using moderate force. This system is safe, aligns front teeth relatively quickly and is completely removable.
Another popular, modern teeth-straightening device available at our practice is Invisalign. This system comprises a predetermined set of transparent aligner-like trays that can be custom-made for each patient. This treatment plan requires the patient to change their trays according to a set schedule. Like the Inman Aligner, these trays are removable, which offers several benefits.
Not all orthodontic appliances may suit all patients, and for those with more complex misalignment issues, lingual braces may be a better fit. These braces resemble the design of traditional braces in that they feature brackets and wires. However, they are distinctive in that they are attached behind the teeth, placing them out of sight.
Some appliances like the Six Month Smiles treatment plan can offer patients even faster methods of straightening teeth. This is achieved because these appliances focus only on straightening specific teeth like those in the front. The device's design features nickel-titanium wires that can be matched to the colour of the patient's teeth.
Whether you want to improve your oral hygiene, relieve facial pain or even improve the quality of sleep, we can find the right orthodontic plan for you. Why not take advantage of our free professional consultation at Crofts Dental Practice by giving us a call today?