In the adult world, a great deal of interaction seems to be based on appearance. Perhaps you were intimidated by the idea of wearing braces as a child, and you may now be considering the benefits of having straighter teeth. Having a smile that you can be confident about often makes all the difference to your own self-esteem, as well as the health benefits that come with it! Luckily, there is now more than just one way to straighten your teeth as an adult, and we are proud to offer it to you!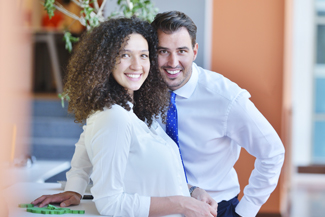 At Crofts Dental Practice, our team can offer you invisible braces in Essex, such as the world famous Invisalign aligner. This straightens your teeth quickly and painlessly, leaving you with a higher level of confidence about your smile. Our dentists can help you to decide which adult aligner is best suited to your needs, so you can get that straighter smile you deserve sooner!
But what are these adult aligners and invisible braces in Essex that we can offer you? Read on for a brief guide to our most popular adult orthodontics.
Invisalign
Briefly introduced earlier, Invisalign is one of our more popular invisible braces in Essex.
Made up of a set of clear plastic trays that slot over your teeth, this system gently pushes your teeth into their new position, without any tightening or adjusting; all you have to do is change the tray every 2 weeks (on average).
It is required that you wear the braces for 22 hours a day. This aligner is also removable, meaning you can conveniently take it out to brush your teeth and eat.
Inman aligner
Like Invisalign, the Inman aligner is also a removable brace that uses opposing coils to push your teeth into a new position.
It is typically worn for an average of 6 months, and this aligner straightens your front teeth. It is perfect for correcting mild to moderate protrusions and misalignments.
Six Month Smiles
Well, this aligner delivers what is said on the tin!
Unlike the Inman aligner and Invisalign, Six Month Smiles is a fitted brace, that is known as a clear brace. Comprised of a thin piece of metal and either clear or tooth coloured brackets, this aligner is targeted more towards correcting specific protrusions and gaps, meaning that time is not wasted straightening every tooth in the mouth.
Once again, this aligner is worn for an average of 6 months, but this may be longer depending on the severity of the misalignment.
Lingual braces
And finally, lingual braces are the perfect solution for more extreme misalignments.
Visually similar to orthodontic braces, this brace is fitted to the back of your teeth, allowing our team to adjust the tightness and move your teeth forward. This brace may be worn for 6 months to a year and, unlike traditional braces, is made of gold. Very classy!
Want to know more about having adult orthodontics? Be sure to call a member of our team today!