If you are looking for fresh breath in Essex, then look no further than Crofts Dental Practice. We understand how important dental hygiene is for oral health, and also aesthetics and confidence. Bad breath is an unattractive feature, and if you are concerned about having bad breath then it may be a result of having poor dental hygiene. Speak to us if you are concerned, and we will be able to guide you on the best course of action for your teeth.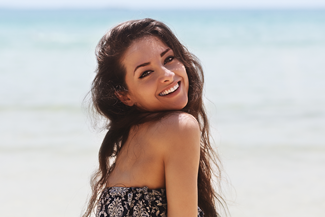 What causes bad breath?
Bad breath is caused by the decay of bacteria in the mouth, which can produce bad smells. Therefore, a good level of dental hygiene is important as it removes the decaying materials from the teeth, which is what could be causing the smell, and can reduce your risk of cavities.
If you are looking for fresh breath in Essex, and feel like your dental hygiene is of a sufficient standard, then the reasoning behind your bad breath could be something else, and in some cases more serious. Throat and lung infections can also contribute to bad breath, so it is important to get yourself checked as soon as possible.
How to prevent bad breath
Bad breath can be prevented by brushing twice a day using the correct techniques and flossing at least once a day. By maintaining this as a dental hygiene routine, your breath should stay fresh. There are other methods to maintain a good hygiene routine and avoid bad breath, such as avoiding particularly high-sugar foods, and using mouthwash occasionally if you are looking for a particularly fresh feel in your mouth.
Hygiene appointments
We advise that you come in for a hygiene session regularly, to make sure that your teeth are as clean as they can be. This treatment is also referred to as a scale and polish and involves the professional cleaning of your teeth. This is to ensure that plaque and cavities are kept at bay, and with a good dental hygiene routine as well, your teeth will be perfectly clean. Often regular toothbrushes, and a slack routine, can mean that certain areas of the teeth may get neglected. This is where cavities will form and where the source of bad breath may emerge.
Interdental Brushes
Interdental brushes are another way in which you can ensure that your teeth are being cleaned to their fullest potential. Interdental brushes are often given to patients that have been fitted with braces, as often a regular toothbrush cannot reach certain areas of the teeth, and therefore they can become a hotspot for plaque and decay. However, even with teeth that do not have braces, interdental brushes can be very useful at removing excess food that you may have missed. They also provide a softer and more precise brushing method closer to the gums, as brushing too firmly at the gums can cause them to recede.
If you are interested in improving your dental hygiene routine, and making sure that you have fresh breath in Essex, then get in contact with Crofts Dental Practice, and we will be able to assist.