If you have lost most or all of your teeth, you are now faced with a choice.  You can opt for dentures, a tried and trusted and relatively inexpensive replacement method. Or you can go for something that is probably a complete unknown to you, dental implants.
In Essex, at Crofts Dental Practice, we know that it can take time to decide which is the right restoration method for you. There are important factors to weigh up, and we understand that you may wish to talk them over with us several times.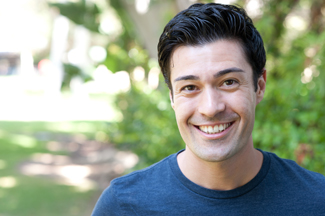 We are happy to discuss the pros and cons of both treatments with you, with no pressure either way, so to get the ball rolling let's look at what dental implants are and what they can offer.
Replacing the roots
The difference between dental implants and dentures hangs on the fact that dental implants replace the root of the tooth as well as the crown, whereas dentures rely on a good fit to the gum and jawbone for their stability.
Eating
Dental implants mesh with the bone over a period of weeks and become as firmly anchored as a natural tooth. This means you can eat whatever you like, including crunchy, chewy and sticky foods that are off the menu for denture wearers, which, at their best, only give about 25% of the chewing power of natural teeth.
Wobble
Dental implants, if well looked after, can last for the rest of your life and will never wobble around. Dentures can't help but start to slide around because the gum recedes and the jawbone shrinks when there are no roots in it to stimulate cell renewal. This means having to use dental adhesives and getting the dentures relined every little while.
Jawbone shrinkage
As mentioned above, with no roots in it the jawbone starts to shrink. It doesn't take long for people with no tooth roots to develop that pointy-chinned, sunken look characteristic of tooth loss and premature old age.
Cost benefit
Dental implants usually last for decades. Dentures need to be replaced every 7–10 years. Over time, they can end up costing about the same.